Dolphin Cove Jamaica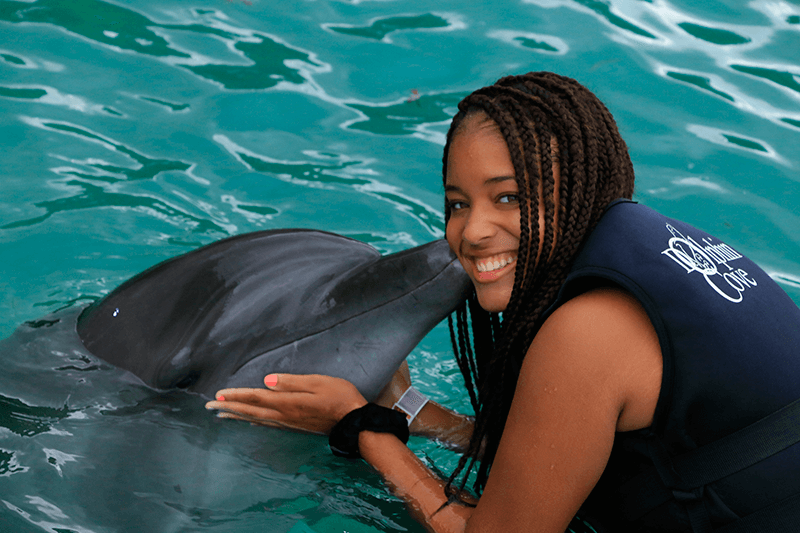 Belmont Road, Ocho Rios, Jamaica
876-974-5335
Ends in 71 days 19 hours 33 minutes
Unlimited coupons
Active Members are entitled to -25% discount on this product. Not A Member, Join Today.
Description
This magnificent property has a natural cove which is surrounded by 5 acres of lush tropical rain forest. Visitors have the opportunity to interact and "Swim With" dolphins in their natural environment while enjoying the thrill and love of these amazing animals. Visitors can also swim, hold, feed, and learn about the evolutionary secrets of the Caribbean sharks. Visitors can capture their dream of being a dolphin trainer by taking the challenge of being "Sea Keeper" for the day. Did you know that swimming with the dolphins is considered one of the top ten bucket list items? When you come to Dolphin Cove Jamaica, you not only get a chance to live this dream, you have the opportunity to knock off a few more like riding a camel, swimming with the sharks, or even SeaTrek with the dolphins. Dolphin Cove is a place where you come for the day but remember for a lifetime.
Restrictions
50% off the regular rate. Cannot be exchanged for Cash. Not valid with other discount promotions. You must be an active member of Caribbean VIP Discount Club to get this discount.
Dolphin Cove Jamaica
In February 2001, Dolphin Cove opened its doors just across the road from Dunn's River Falls in Ocho Rios. Originally the Burrows' family home, it was transformed into a three-acre marine park with initially four dolphins as the star attractions and since then, has undoubtedly risen to become the country's leading tourist attraction.
Our dolphin interactive programs rank among the best in the world but we are much more than that as we have a wide range of animal interactions that parks visitors can experience. Among the 4 parks you can experience amazing activities for the whole family like Mini-boats and exploring the coast, interacting and snorkeling with stingrays, petting the camels, watching our hilarious shark show, relaxing on our glistening white sandy beaches, taking a glass-bottom kayak ride to explore the fascinating underwater world, interacting with exotic birds, snakes and iguanas on the Jungle Trail walk.
Belmont Road, Ocho Rios, Jamaica
876-974-5335